I thought I would give you an update on the progress of our re-negotiation of Britain's relationship with Europe. The draft new deal for Britain in Europe published today delivers that substantial change. Of course, there is still more detail to be worked on, but we have made real progress.
I said we needed:
A 'red card' system for national parliaments to block unwanted EU laws
An end to something for nothing welfare for EU migrants
No more British taxpayers' money being used to bail out the Eurozone
An agreement that we will keep the Pound, never join the Euro and fair treatment for our currency in Europe; and
Britain out of 'ever closer union' so we do not become part of a European Superstate
Some said these changes would be impossible to achieve. But they are all in the document.
So there is more work to be done, more detail to be nailed down, but we are delivering.
Of course, as I have said before, if we do not secure the changes that Britain needs, then I rule nothing out.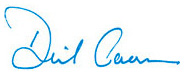 David Cameron